A Very Special Invitation! Are YOU "IN"?
A VERY SPECIAL INVITATION!
Are YOU in?
Here is your opportunity to 
DEPLOY JOY!
A full Menu of 1/Kind Items awaits you!
Opening Bids as low as
10% of the 
REAL VALUE!
Inspiring Creativity in Children Around the World is Our Mission!
ARE YOU READY?
Let the Bidding Begin!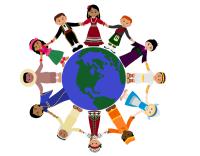 Imagine for a moment....
A child who lives in poverty, without running water or electricity...
There are so many!
Then, a package arrives!
From their devoted sponsor, who writes to them and learns about how they live in a country many will never even know!
She inspires them and learns about their families, their dreams and hopes!
This person is my sister.
This time, this auction is a bit "personal".
For many years, I have admired my sister's commitment to sponsor so many children around the world.  She doesn't just spend her money to do this; she engages with "her kids"!
So, I finally realized that if these darling children are "her kids", they are my "nieces and nephews".  I wanted to give them each a gift of my art and encourage them to create too!
So, with every dollar you bid, with every treasure you win, we will be sending these children basic art supplies to INSPIRE THEM to create! I will also be including a work of my art that I hope will make them SMILE!
We hope that you share in our enthusiasm to touch the hearts, the minds of these children too!
Thank YOU for YOUR SUPPORT and Participation!  Every bid, every donation, no matter how "small" is truly appreciated!
One Love!
Wendie Busig-Kohn
CEO/Founding Chairperson
ART4GOOD Foundation, Inc!